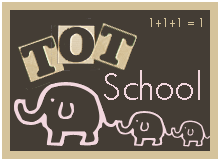 ~ Peeper is 33.75 months old ~
A Note To My Regular Readers:
I may be repeating some photos or stories that I've already published, but I want to put all our learning activities in the one post that's part of the Tot School link-up.
Tot Schoolers:
Welcome! If you enjoy this post, please feel free to stay for a while, and have a look around. I'll give you a fair warning that much of my blog is PG-13, but my Tot School link-up posts will always be G-Rated.
---
We actually did Uu a few weeks ago, but I just realized that I never posted about it. After Uu, we took a little break, and have just started on Vv (while we've been sick), so we'll wrap it up this week (hopefully, we'll be feeling better soon!) and I'll post about it next week.
So, what did we do for Uu? Well, not a whole heck of a lot, actually.
Our letter crafts were U is for Uncle Sam and u is for umbrella.
Peeper is quite the fan of old Uncle Sam. It all started back in June, when we bought her a big Uncle Sam hat from the Target dollar aisle. We were called it her "Uncle Sam hat" and I don't remember if she asked what that meant, or we just took it up ourselves to explain, but we googled some pictures of him, and she fell in love.
As luck would have it, I awas able to score her an Uncle Sam mask at a MOMS Club event, and I colored it, per her instructions.
Here's our sad little collection of U items for our box: I didn't even manage to locate the U magnet or u bath foamy, but I did find the Uu book and U is for urchin animal car, a box lid with an umbrella on it, a pair of underwear (had to teach her that word - everybody in our house just wears panties!) and good old Uncle Sam.
A random academicish moment of her own: "Wook, Mama! I make yewwow wuhd wif bwoo wuhds!"
During one of our lazy weeks between U and V, I found these cool US Presidents cards at Target, on the dollar aisle. (I'd already gotten her a Presidents book there, but I like the cards better.)
She got interested in presidents after looking at coins, and I thought I'd show her more than those four guys.
She can recognize and name a few of them, sometimes, but mostly she looks at them and asks "Mama like dis guy?"
She can also sing you a song about "Tall Tom Jefferson." We'll have to find some songs about some of the other guys.