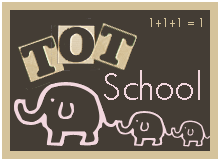 ~ Peeper is 32 months old ~
A Note To My Regular Readers:
I may be repeating some photos or stories that I've already published, but I want to put all our learning activities in the one post that's part of the Tot School link-up.
Tot Schoolers:
Welcome! If you enjoy this post, please feel free to stay for a while, and have a look around. I'll give you a fair warning that much of my blog is PG-13, but my Tot School link-up posts will always be G-Rated.
---
Again, we spent two weeks on a letter, because between Shrike working days and then being on vacation, and doing our frozen embryo transfer (which doesn't look too promising right now, official blood test tomorrow and nothing on the home tests), we didn't get much done in the first week.
Actually, we didn't get much done in two weeks, either. We did letter crafts (finally) and collected our ABC Box of O-things (what we could find), but Peeper wasn't really interested in her "letter pages" or "letter cards" this week, so I didn't push it.
She wasn't totally into her crafts, either, but we got one done and one sort-of done.
O for owl (again, she put the eyes on) and o for orange. She didn't color very much orange on it.
We were really struggling to find things for our ABC box. I think next week will be much easier!
We did come up with: O magnet, o bath foamy, O singing magnet thingy, Oo block, O is for Octopus book, Oscar, oval, onion, oranges, and an orangutan book.
We baked some cookies for July 4. . .
Peeper discovered sidewalk chalk.
And went wading in a stream.