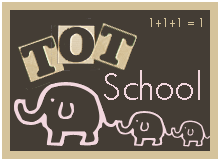 ~ Peeper is 28.5 months old ~
A Note To My Regular Readers:
I may be repeating some photos or stories that I've already published, but I want to put all our learning activities in the one post that's part of to the Tot School link-up.
Tot Schoolers:
Welcome! If you enjoy this post, please feel free to stay for a while. I'll give you a fair warning that much of my blog is PG-13, but my Tot School link-up posts will always be G-Rated.
---
I was really stretching to come up with things for the discovery bin this week, and it was so pathetic that I didn't even take a picture of it. I had a plastic ice cube from her kitchen, and the I magnet, letter book and animal card. Surely there was something else in there, but I don't even remember what.
We did our letter crafts, one a little more impressive than the other . . .
. . . and that was really about it.
We were pretty busy here, Shrike off work on Monday and Tuesday, and MOMS Club activities Wednesday, Thursday and Friday, and somehow before I knew it, the week was gone.
I know that Peeper chose plenty of learning-type activities but I didn't get photos of any of them, and I honestly couldn't tell you now what they were.
I did try to point out I words when we came across them, but wow, there really aren't that many, are there?
I do have a lead on some more structured letter activities coming up, though.
I've downloaded some new Tot School alphabet printables for A - E from the
1+1+1=1 Tot School
blog and we're going to play with those while we wait for the next few to be published, and for her to "catch up" with where we are.
I've even cut out - and laminated! with my new laminator! - some of the cards that go with it, and have them all in a folder, packed up and ready to take with us on our trip to Texas.
We leave in the morning, and will be gone a week, so there won't be any "official" tot schooling next week, but Peeper seems very interested in playing with those cards, and of course, there will be lots of other excitement going on.
But right now, I need to convince her to go to sleep, so we can catch a plane in the morning!