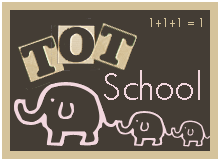 ~ Peeper is 31 months old ~
A Note To My Regular Readers:
I may be repeating some photos or stories that I've already published, but I want to put all our learning activities in the one post that's part of the Tot School link-up.
Tot Schoolers:
Welcome! If you enjoy this post, please feel free to stay for a while, and have a look around. I'll give you a fair warning that much of my blog is PG-13, but my Tot School link-up posts will always be G-Rated.
---
I'm a little late reporting in, but last week Peeper and I learned all about the letter L.
We started off the week with some letter crafts: L is for Ladybugs and l is for lion.
First she put ladybug stickers all over a cut-out L. I found these in the scrapbooking aisle at Target for 99 cents. She did this one pretty much all by herself, except for a bit of help getting the stickers off the sheet.
Notice that, on her own, she put them on the L until it was full, and then put some around it. The last time she was "supposed to" put stickers on a letter, she just stuck them all over the page, willy-nilly.
Okay, the lion was more my project than hers, but she did glue the l to the paper, and draw "worms" (lines) on it, and stick the eyes on (as you might have guessed).
I did the mane (as you also might have guessed). While I was working on it, she wandered off to play and kept coming over and asking "What Mama doin'?"
"I'm doing your craft, honey!"
The finished products.
This is the back of the lion. As you can see, I cut one pipe cleaner into three pieces, and made two "hairs" with each one, then I taped them on the back, to keep them in place.
This week, Peeper helped me to put together her "ABC Box." That's her name for it. I've been referring to her "Letter __ Discover Bin" or "Letter __ Box / Basket" all along, but this week, she picked it up and aask, "What's in Peeper's ABC Box?
So, ABC Box it is!
So, what
is
in Peeper's Letter L ABC Box?
Lady Liberty (or "Satuw Wivvery" - we found this on the Target dollar aisle), a couple of lions (One of whom we refer to as "The Accountant." Can you guess which?), lemon, lid, ladybugs, L magnet, l bath foamie, Elmo Robot's leg, leaves (a "we-uw weaf" and a "decawation weaf"), a "little squid" (as opposed to a giant squid) and Lemon Chiffon. (She's one of Strawberry Shortcake's friends. She's a Happy Meal toy, but I don't think Peeper's ever had a Happy Meal. She got it - and match Strawberry Shortcake - directly from a guy at the local McDonald's corporate office when we were there filling out a donation request form for the spaghetti dinner.) Not pictured, because we added her later, is
Lisa
. I suppose that she and Lemon might also be considered ladies.
Peeper is very into The Wizard of Oz these days, so I printed her some coloring pages. Then, together, we put them in he order that the characters appear in the movie. Of course, she needed some prompting, but she got the idea, and more importantly (I think) she got the idea that things can or should be put "in order."
I left the papers laid out on the floor (because that's the kind of housekeeper I am) and several times over the week (until they got scattered all over the room, because
that's
the kind of housekeeper I am), she would take one out and put it elsewhere and say "Mama put Skeh-cwoh in oduw!" and when I put him back in his spot she'd say "Skeh-cwoh in oduw!"
I think I'm going to try reintroducing the
Tot School Printables
sequencing cards and she if she's any more interested in them than before, and if she's able to do them now.
The big thing that Peeper's been working on learning this week is going to the potty! Starting Monday, she's been in panties pretty much fulltime when we're at home and awake. Actually, she's even started napping in panties (on top of a couple of folded towels) and, three times, she's taken a three hour nap and woken up dry!
One day we even went for a walk to the ice cream stand around the corner wearing panties!
She still needs prompting (and, often, coercing) to go and hasn't yet told me that she needed to go, but if she starts going somewhere other than the potty, she seems to be able to cut it off and report it and then finish in the potty. So, I suppose that's progress.
Our big outing for the week (I say that as though we have a big outing every week. We do not.) was on Thursday, when we went strawberry picking with the MOMS Club. Peeper had a ball picking them (well, mostly picking leaves) . . .
. . . but wasn't as keen on eating them. Strawberries are one of those things that she likes more in theory than in practice.
I kind of feel the same way, in that I like the flavor, but can't handle the seeds.
So, I tried making strawberry-banana smoothies, and we both loved them! I've made some variation of that every day since, I think, and have plans to go buy more berries (straw and otherwise) to make some more.

As that picture suggests, we've also spent a ton of time outside. After some serious storms (of the hide in the basement variety) last week, the weather has been very nice this week - hot in the beginning of the week, but just all-around lovely the second half - so we've been out in the yard for hours each day, if you add it all up.
Peeper is loving her pool, and helping to water the garden, and putting on her froggy boots all by herself to take a bowl of food scraps to the compost bin all by herself, and having picnics for two or three meals a day plus snacks, and running around in nothing but panties, sunscreen and a smile.
It's only the first week of June and she's already all scratched and scraped and bruised and bug-bit, so I figure we must be doing something right!